Publishing: CDs, Books, and YouTube
To order CDs or book, please click the link below the CD or book. For further information, please click here to contact Thomas Tedesco.
"Ocean"
(to purchase the CD, double click the CD graphic on the right)
All Original music by Thomas Tedesco, classic re-issue on Clarion Jazz, re-released August 2005.

Personnel: Thomas Tedesco (Guitar); Bobby Bradford (Trumpet); Roberto Miranda (Bass); Sherman Ferguson (Drum); Rod Rozzelle & Sartuse (Percussion). First reviewed in Down Beat receiving a 4 star review.
OCEAN
I conceived/wrote this music in the 1970's while living in Venice, California. At that time Venice was affordable, so it was an artist community, lots of inspiration and creativity which coincided with the era (60's and 70's). A condescending, conservative, political climate had not yet emerged.
There was lots of music happening at any one time. There were four to six jazz clubs, tea houses and outdoor venues that I regularly worked in. The opportunity for expression, experimentation and growth was abundant.
The music reflects the progressive attitude that was in the air during the times. Many people were trying to end violence/war, and construct a more compassionate, civil society. There was mass resistance against racism, poverty and the destruction of the environment. This is still happening today, however, it has very little visibility. Life was quite different then, the educational system served the people, and the media was willing to the the truth.
These compositions reflect my experiences in those days, experiences I envisioned and ideals that I wanted to express. I feel music is food for the soul, and speaks to the subconscious, the inner being. And my intent is to be a part of the art form that uplifts our spirits, causes a sense of compassion, insight and creativity. To be a part of the art form that ennobles and dignifies life, and ultimately beautifies life.
So, let our music be endowed with rhythm, harmony and melody. Let our rhythm be not just a beat, but rich in polyrhythms, and highly syncopated to effect inclusively and honor diversity. Let our music be rich in harmony, the language of the heart, to effect compassion and give us an appreciation of the dignity of all life. Let our music be rich with melodies, the wisdom of the mind, enabling one to pierce the form and perceive truth.
I should say there were no second takes on this recording, as we went into the studio and played the music as if it were a concert performance. I trust you will again, enjoy this music,
~Thomas Tedesco, May 2005

"Don't Ever Be Afraid To Be Ascared"
(to purchase the CD, double click the CD graphic on the right)
Six original compositions and arrangements with a CD line up of: Thomas Tedesco (Guitar); Garnett Brown (Trombone); William Henderson Piano); Henry "The Skipper" Franklin (Bass) and William Jeffrey (Drums).
Released on 9Winds label July 1999.
•••••••••••••••••••••••••
"DON'T EVER BE AFRAID TO BE ASCARED"
A word about the music. While writing "Can You Hear It", I had a feeling of uplift and resolve, a song with harmony that follows a path and resolves. Let us move from even to event in harmony and grace.
"Doris Marie" is a song written for my wife at the time. "Quick To Hear, Slow To Speak", so, let us put some thoughtful discipline into our reactionary world. Discipline should not be an impulse to dominate. There is an inconsistency and tension in overt effort.
"Paris Eyes" a composition by Larry Young that I think should be a jazz standard. "Limpopo", written by a dear friend of mine Steve Rosen. The piece is named after a river runs through South Africa, written around the time the world was calling for an end to apartheid.
"The Alchemy Of Bobby Bradford", in this composition I/we try to capture the brilliance of this great jazz man. "To Drink Water From A Wooden Bowl" talks about humility. The Divine in no way attempts to change us against our wills, but simply permits it's own infinite motions to wear away our willfulness, thus a humble nature. "Don't Ever Be Afraid To Be Ascared", what can I say the blues, the foundation of this music always speaks to the spirit of life within us.
In all the Arts and Sciences living is the most important and precious. Don't ever be afraid to be ascared.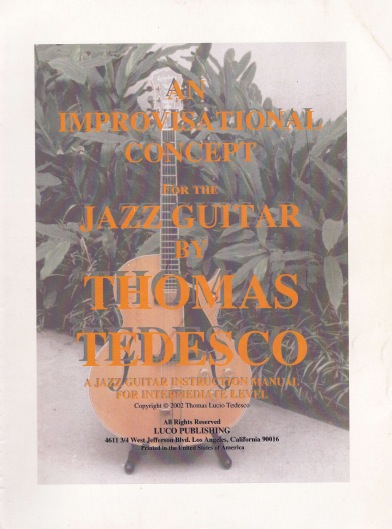 Please
hover here
for message from Thomas Tedesco about this Book
BOOK: Improvisational Concept For The JAZZ Guitar
Contact Thomas Tedesco directly to get your copy!
thomas@thomastedesco.us
Thomas Tedesco, Published February 2003, Luco Publishing Co.
BOOK REVIEWS:
"Thomas Tedesco has put together a comprehensive and well organized book for jazz guitar improvisation. He stresses that the student try to find there own voice on the instrument and give them the building blocks to start them on their journey." ~ Guitarist Dave Stryker
"A technique guide for the intermediate guitarist that rather than simply being a collection of excercises is well narrated guide that works like a private lesson, even offering some general philosophy for the practicing musician." ~ Jazz Times Education Guide
"Well conveived, material presented is very precise and comprehensive, a good guide to a personal approach, I especially liked the must know tune list and the explanation and use of tablature." ~ Guitarist Ron Eschete
Improvisation Concept for the JAZZ Guitar
This book presents the students with a system in which they can create a personal voice as a jazz guitarist. The lessons are presented in ways that challenge students to focus and work out the ideas on the fretboard. This should become a habit so that the step from the practice room to the bandstand is smooth and natural. These exercises give the students methods to, and asks them to create their own melodic phrases, arpeggios, chords, voicings and substitutions. Through this system students will see how their musical vocabulary will have identies in many different contexts and varied relationships. This knowledge and understanding will give students the confidence to truly improvise – to go where the heart dictates as the intellect has acquired the knowledge to guide.
Watch Thomas on YouTube

The Alchemy of Bobby Bradford

 Cresent

 Paris Eyes

Can You Hear It